Sunrooms Salt Lake City UT
Greater Salt Lake City Area, Utah
Adding a Global Solarium sunroom to your home in the greater Salt Lake City area in Utah will not only increase the square footage of livable space, but will also bathe that space in natural light. What better way to take in the snowy winters and sunny summers than a glass-enclosed room that's comfortable all four seasons year round?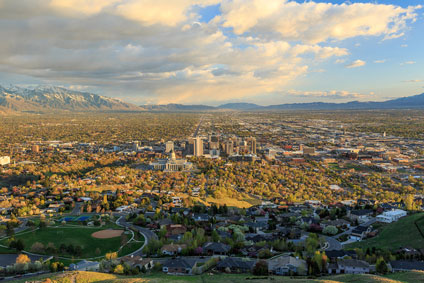 Global Solariums has several different enclosures to fit any need. Using high-quality materials, modern technology, and a high level of individual craftsmanship, Global Solarium conservatories, sunrooms, and patio rooms are built to withstand four-season weather.
There are four styles of patio rooms to choose from:
Edwardian

Georgian
Victorian
Lean-To
Edwardian and Georgian Sunroom
Edwardian and Georgian patio rooms use a rectangular or square floor plan employs a ridge running perpendicular to the house exterior wall. This floor plan tends to be more flexible and can feature many kinds of grid designs, cresting, and stained or etched glass. Edwardian sunrooms have solid, insulated roofs and glass walls.
Victorian Sunroom
For those who want something a little more lavish, Victorian sunrooms can be designed with a little more flair. Not limited to a rectangular or square floor plan, Victorian patio half round or half hexagonal floor plans are more difficult to design and build. But the results, including roofs that match existing structures, are worth it.
Lean-To Sunroom
Lean-To sunrooms are found at the other end of the spectrum, but are no less durable or comfortable. Perfect for transforming deck or patio areas, Lean-To sunrooms add a sense of space and lightness to the home.
No matter if you live in Salt Lake City, Provo, Orem or Sandy, Global Solariums has the perfect sunroom for you. Contact us today for more information.
"*" indicates required fields
Sunrooms in Salt Lake City UT
Capitol Hill | Central City | Central City West | Fairpark | Federal Heights | Foothill | Glendale | Liberty Wells | Marmalade District | Poplar Grove | Rose Park | Sugar House | University | Westpointe | Yalecrest